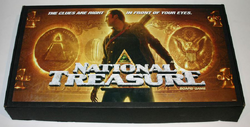 National Treasure Board Game is 2–4 Players board game released in 2004[1].
Description
"The Clues Are Right In Front Of Your Eyes."
This was a press kit of sorts for the film, it contains trivia based around the film, such as questions about other films with Nicolas Cage and some historical trivia related to the film's plot.
Contents: National Treasure Playing Board, 4 Markers, 1 Deck of 30 Trivia Cards, 4 Sets of four Monument Cards, 1 "All-Seeing Eye" spin wheel, 1 Winner Card In Sealed Envelope, and DVD of promotional materials. The box measures 11 x 21 1/2.
Gallery
References