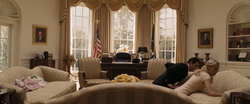 The Oval Office is the official office of the President of the United States. Created in 1909 as part of an overall expansion of the West Wing of the White House during the administration of William Howard Taft, the office was inspired by the elliptical Blue Room. The room features three large south-facing windows behind the president's desk and a fireplace at the north end of the room. A Resolute Desk in located in this room.
Presidents generally change the office to suit their personal taste, choosing new furniture, new drapery, and designing their own oval-shaped carpet to take up most of the floor. Paintings are selected from the White House's own collection, or borrowed from other museums for the President's term in office.
The Oval Office has four doors: the east door opens to the Rose Garden; the west door leads to a private smaller study and dining room; the northwest door opens onto the main corridor of the West Wing; and the northeast door opens to the office of the president's secretary.