(Adding categories)

 

(2 intermediate revisions by the same user not shown)
Line 1:
Line 1:
 

[[File:Queen Victoria Letter.png|thumb|right|250px]]

 

[[File:Queen Victoria Letter.png|thumb|right|250px]]

⚫
 
 

'''Queen Victoria's Letter''' is a letter sent by [[Queen Victoria]] to Confederate General [[Albert Pike]]. The letter contained the clues for the location [[Cíbola]]. The letter was passed down to [[Mitchell Wilkinson]], who burned the letter after memorizing it, to be the only one to know the clues.

 

'''Queen Victoria's Letter''' is a letter sent by [[Queen Victoria]] to Confederate General [[Albert Pike]]. The letter contained the clues for the location [[Cíbola]]. The letter was passed down to [[Mitchell Wilkinson]], who burned the letter after memorizing it, to be the only one to know the clues.

 
+
 
+

There were multiple letter from Queen Victoria to Albert Pike one letter contained a clue "[[The entrance shall only be found under a cloudless rain]]".

 
+
 
+

==Trivia==

 
+

*A movie prop reveals the date of the letter to be February 6, 1874.

 
+
 
+

==Gallery==

 
+

<gallery spacing="small">

 
⚫
 
+

File:Queen Victoria Letter Prop.png|Prop

 
+

</gallery>

 

[[Category:Clues]]

 

[[Category:Clues]]

 

[[Category:Book of Secrets Clues]]

 

[[Category:Book of Secrets Clues]]

 
+

[[Category:Book of Secrets]]
---
Latest revision as of 10:57, 25 April 2020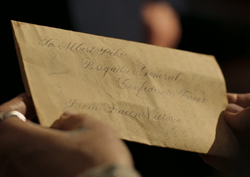 Queen Victoria's Letter is a letter sent by Queen Victoria to Confederate General Albert Pike. The letter contained the clues for the location Cíbola. The letter was passed down to Mitchell Wilkinson, who burned the letter after memorizing it, to be the only one to know the clues.
There were multiple letter from Queen Victoria to Albert Pike one letter contained a clue "The entrance shall only be found under a cloudless rain".
Trivia[]
A movie prop reveals the date of the letter to be February 6, 1874.
Gallery[]